Browse through our work, then schedule a free call. We'd love to hear about your goals, and how we can help you.
Browse through our work, then schedule a free call. We'd love to hear about your goals, and how we can help you.
LET'S GET STARTED
Get That Website Off Your To-Do List!
Launch your new web project with 
Moka Labs
today!
How much will a website cost?
** our most asked question **
If you're on a budget, our ProSite program is perfect for you. Prices begin at $880 for a full website. We're launching this service in January 2020.
We offer two ways to move forward with your website project:
PRO SITE (1) With pricing from (USD) $880 to $1800, you can choose one of our pre-built blueprints and get going quickly and affordably. Our blueprints are hand-crafted by us, and as beautiful and functional as any custom website. This system is designed to get you up and running quickly and affordably.
CUSTOM (2) Build a custom website. Pricing begins at (USD) $6000. This includes a 3-hour discovery session to work on goals and plan your project. Then, together, we build a roadmap to get you exactly where you need to go.
Custom projects generally range from $6k to $15k.
NOT SURE? .. START SMALL!
Do not spend thousands of dollars when you're not sure what, how, and why you're building a new website!
More planning or start small.
If you just need something online, "a quick website" - then our Pro Sites are a perfect solution for you. These smaller budget projects will get you online quickly, and you can grow into any level of a fancy custom site - just like those we build for 10k and upward.
Every site we build - regardless of price - uses the same platform, the same tools, and enjoy the same limitless possibilities. Your site will enjoy unlimited growth, SEO tools, superior hosting, speed, security, and performance.
Are there recurring costs with my new website?
Yes. There are a few expenses to consider when launching a new website. The three main costs are (1) your domain name, (2) hosting, and (3) ongoing maintenance of the website.
1. Your domain - cost is typically about twenty dollars per year. It is possible to pay more for a premium domain name, but for the most part, your domain will cost around $20 annually.
2. Hosting - prices vary wildly, but generally, good hosting will cost about 30 dollars per month. Yes, you can find discount hosting for much less,  but please stay away from these "shared hosting" plans. They are to be avoided.
3. Care Plans - You can DIY this work (do it yourself) or hire a company to care for your website. This includes tasks such as software updates, backups, monitoring for malware and viruses, and other tasks Essentially, for a small monthly fee, a company will ensure your website runs smoothly.
Our Care Plans include hosting, plus a list of premium applications (plugins) available to you at no extra cost. These tools are the best in the business - we've tried them all - and they help you get the most out of your website - read all the details on our care plans here.
Who owns my new website?
You own your website! It's in our contract.
After you launch your website, we don't want you feel trapped or beholden to anyone. We'd love to continue working with you, and we'd like to think it's because we've earned your trust and offer good value.
TIP: If you're considering another web development company, please be sure ownership is clearly spelled out in your contract. You'd think it's obvious, but not everyone is on the same page here.
I have no website, nor any experience, where do I begin?
Not a problem. We work with (website) beginners all the time.
In fact, Dr Dina Kulik launched her first website DrDina.ca with us in 2014, and her second wesbite Kidcrew.com when she founded her medical clinic in 2015. Today, Dina manages two very visible and popular online brands, including a strong social media presence.
We'd recommend you begin with our website worksheet then schedule a (free) call with us.
I have an old website. Can I use the same content?
Yes. This is normal, and happens all the time.
For most websites, importing or copy/pasting your content is quick and easy.
This is also a great time to do a little spring cleaning and update your content, images, and information.
If you're unsure with how to proceed - let us take a look. Schedule a free call with us, and we can quickly work out a plan to move forward.
How long will my project take?
We can work with your deadlines.
If you have an upcoming product launch, conference, or other events, we can work with your timeline. We love working quick!
A typical website takes about eight weeks to launch.
We can launch much faster - under two weeks is feasible - but we've found eight weeks is a comfortable timeline for clients to gather all the necessary information, branding, content, editing, testing, and optimization.
We work fast, but we also prefer this experience to be memorable for you - so unless you have a specific reason for a deadline - taking this extra time to be more thorough will be more enjoyable for everyone.
Can I work on my new website?
Yes! We encourage our clients to work on their new websites.
NO CODING REQUIRED! 
We have many DIY (do it yourself) clients, and we take great joy in seeing them learn and progress.
We especially enjoy watching their independance grow as they learn. Hiring a web developers or designers can be expensive, and if you have the time, you can manage most of the work yourself.
Some clients prefer doing it all, and some clients prefer us taking on some of all of the workload.
One of our favourtire expressions is "It's not hard, it just takes time."
We provide all the training you need to make edits, add content, add pages and posts, forms, images, videos, and so on. Your posibilities are not limited in any way, and we provide a lot of tools.
We also provide you with over 100 training videos on Wordpress, Divi, Yoast, Gravity Forms, and other software - and our video library is growing every month.
Do you offer a trial before purchase?
The moment we launch your website product, we begin the work. Due to the nature of the labour intensive process, we cannot offer any trial or money back guarantee.
However, we do understand that this can be a big expenditure - so please don't hesitate to ask any questions. We do our best to provide all the information you need to make an informed decision.
After reading more information and you're still unsure, please schedule a free call - a little time spent planning will always save time and money later.
We offer a structured payment plan where you only pay for the work being done - in other words, if at anytime you need to cancel - no problem. We'd package all the files and materials created to date and deliver them to you to use at your discretion.
You may cancel a contract at anytime with no penalty.
Do you offer a money back guarantee?
Due to the nature of our work - which is a labour intensive process - we cannot offer a money back guarantee.
We do understand many events can occur whereby a project needs to be halted or paused - so we've structured our payments to be as fair as possible for both parties.
We bill you in stages - you only pay for the work being done, and payments are due when milestones are reached. In other words, if at anytime you need to cancel - no problem -  we stop our work, with no penalty or cancellation charges.
You may also pause a project at any time with no penalty. We bundle up the files and store them for when your project may resume in the future. We do charge a small "project restoration" fee, as there is work involved to set up your site's staging environment.
Can we meet in person?
Yes, we love meeting our clients.
For now, we're happy to get on a free video call with you. We use Zoom for our meetings. If you're not familar with the App, it's really great and easy to use. All you need is a webcam and mic - most computers and laptops have these today.
Schedule a free call here - and be sure to select "video call" when selecting type of call.
Help, I still have questions!
We love hearing from you - please don't hesitate to ask any questions you may have. Click here to contact us.
Web Design
WHY CHOOSE MOKA LABS?
We only work with brick & mortar small businesses. We have a system for success and it works. We developed our unique MASTER & PRO Site pricing plans to help small businesses get up and running quickly, with minimal cost.
Let our 30 years of experience help you get that website off your to-do list!
SEO
If you're unfamiliar with Search Engine Optimization, watch this great SEO EXPLAINER VIDEO.
Yes, we offer SEO services to our web design clients.
If you have a website currently, and are only looking for help with your SEO, please schedule a free 30-minute call to discuss your goals and plan your next steps.
Social Media
Yes, we offer Social Media services to our Web Design clients.
We've been "going social" since 2011 and while the landscape is always changing, there are always wonderfully effective social media strategies for small businesses to capitalize on.
Schedule a free 30-minute call and we can discuss next steps.
Paid Ads
Currently, we only provide Paid Ads services to our Web Design & SEO clients. These include Facebook, Instagram, SnapChat, and AdSense ad campaigns. If you need help with an upcoming ad campaign - feel free to schedule a free 30-minute call to discuss your needs. We'll review your goals and discuss next steps. We're always happy to point you in the right direction.
Training & Coaching
Yes, we offer one on one coaching for our web clients.
Arrangements are set to suit your requirements.
Everything from monthly retainers to hourly sessions, we're available, and love coaching our clients.
Everything You Need
After you launch your new website, we provide all the tools and training to grow and effectively use your website.

1000+ Templates
After launch, expand using our vast selection of pre-built templates.

DIY or Full Service
We can train you how to manage your website or do it for you.

Entirely Custom
Your website is unique and branded to your specifications.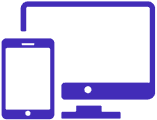 Mobile Optimization
Your new website will look great on any device, large or small.
No Experience Required
No coding needed to easily manage your website's content
UNLIMITED GROWTH  •  UNLIMITED POSSIBILITIES
With minimal training, anyone can modify, edit, and build from our blueprints. Our platform is in use by over 601,000 (October 2019) website owners, both professionals and beginners. Give your business the power of a useful and effective website on a budget you can afford. Launch your project today and get that website off your to-do list!
No experience and no coding required!
Get that website off your to-do list!